Fashion is a tool—like makeup or hairstyles—to create a look you love. "You can change your clothing to have a positive effect on your body.
Fashion is a tool—like makeup or hairstyles—to create a look you love. "You can change your clothing to have a positive effect on your body.
The clothes which will flatter you best will depend on your body shape. Today the choice of clothes is so varied that there's something for everyone no matter what coloring, scale, height, proportion or body shape you are.
(read: Hairstyles according to your face shape)
The following are the four most common female body shapes:
Apple (triangle downward)
Apple-shaped women have broader shoulders and bust, and narrower hips.
Banana, or straight (rectangular)
Banana-shaped women's waist measurement is less than 9 inches smaller than the hip or bust measurement.
Pear, Spoon, or Bell (triangle upward)
Pear-shaped women's hip measurements are greater than their bust measurements.
Hourglass Shape (triangles opposing, facing in)
Here, the hip and bust are almost of equal size, with a narrow waist.
Dresses for your body type:
Triangle Downward Body Shape: Ladies with inverted-triangle body shapes are wider up top and slimmer through the waist and hips. A few simple styling tricks will show off your frame in no time.
Bottoms : Add shape to your bottom half with a few optical illusions. Voluminous bottoms like harem pants, wide-leg pants and full skirts will do the trick. Wear a print on your bottom half to balance out your frame -- horizontal stripes are particularly effective as they instantly widen you. Up top, sport a solid shade. Bright colors work like prints -- they draw the eye downward which instantly proportions your frame. Pair your brightly-colored bottom with a darker colored top for an added bonus.
Tops: When you think about tops, think layers. Creating balance for your shape is all about filling out your upper half. "A cardigan is your best friend.
because it adds lightweight volume. For cooler weather, try cropped jackets that stop at the waist (channel Jackie O. for inspiration). Don't be afraid to show a little skin, too. Three-quarter sleeves, wide scoop necks, and one-shoulder tops all look great on you.
Rectangular Body Shape: Although they're also known by flattering names like an athletic body shape, or long and lean, rectangle body shapes have a few style challenges of their own. Check out this personal style guide that's all about dressing and flattering your rectangle body shape.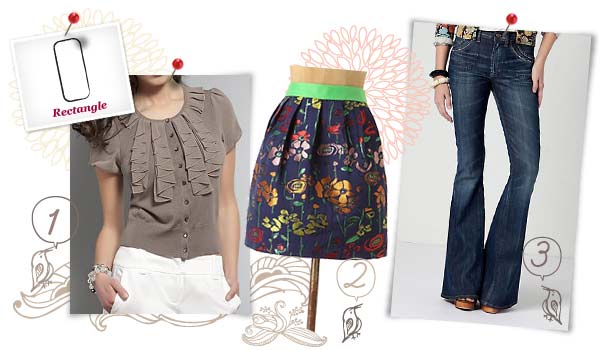 Bottoms : Because of your rectangle body shape, you can wear most pants styles and don't have to worry about them being too tight. In fact, clothes that hug your body will create the illusion of curves.
Tops: Look for scoop-neck and sweetheart tops that help create curves. Belt your waist to create more of an hourglass figure. Wear tops with collars, ruffles and details to flatter your chest.
Wear long jackets to create a lean look and emphasize your narrow rectangle body shape.
Triangle Upward Body Shape :
The pear body shape is the most common female body shape. You're the lucky owner of a pear-shaped body.
Curvy girls rejoice -- we've got the ultimate guide to dressing your pear-shaped body right here. Find the best pants, skirts and dresses for pear-shaped bodies as well as a few expert hints for always looking your best!
Bottoms: Always wear something darker and slimming on the bottom, like dark jeans or slacks, or a dark knee-length pencil skirt or A-line skirt. And, no, that doesn't mean that you always have to wear black on the bottom, but make sure that the bottom is solid in color and darker than whatever you have on top.
A flared leg draws the eye away from your hips and creates a more flattering line for your whole body. Conversely, stay away from capri or tapered pants. They drive the eye right to the hips.
Tops: You can wear a tunic top or dress as long as it fits properly. (Don't wear a tunic top or dress if it's in any way clinging to your belly or your hips.) One that fits properly gives a clean, elongating line while camouflaging everything underneath. The great thing about this style is that it accentuates your arms and your whole upper body and makes you appear taller and leaner at the same time.
Hourglass Body Shape:
The hourglass figure is considered the ideal body type by many women. For women with this body type, the bust and hip are approximately the same size, and the waist is narrow. This gives you a set of se*y, killer curves. When dressing your hourglass figure, look for styles and fabrics that reduce bulk and prevent boxiness. Also look for pieces that draw attention to your narrow waist.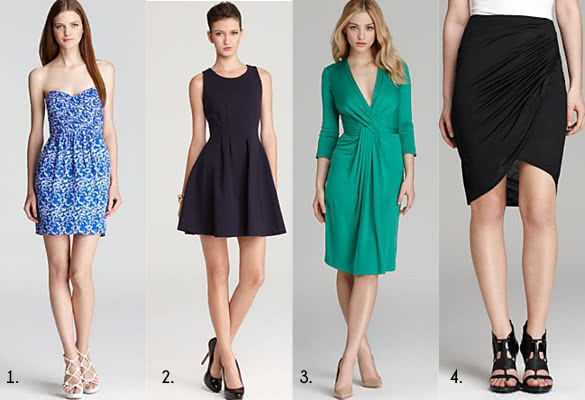 Bottoms: You look best in skirts that stop at or below the knee, not above it. Pencil skirts look great on you, as do bootleg pants and skinny jeans. Choose pants or skirts that follow your natural curve, and go for fitted options (but not too tight). "Embrace your silhouette," says Saboura. "The s**iness is in seeing the curve, not giving it all away."
Tops: Make the most of a small midsection. Cinch dresses, jackets and sweaters at the waist. Look for V-necks, V-neck halters, sweethearts, and scoop necks. Narrow necklines slim down your bust, keeping it looking balanced, and low necklines draw the eye closer to your narrow waist. Avoid wide necklines like boat necks and squares, since these tend to make you look top heavy. To elongate a curvy body, wear cardigans or lightweight jackets that graze the hips.
(
livefitandhealthylife
)