Haircuts according to Face…
The shape of the face helps you determine precisely what hairstyles you need to look your best. Do you need added volume at the top of the head? Do you need length to make your face look longer? Would a curly style make your head look too wide? These are all important issues that have to be taken into consideration, and knowing the answers to these questions starts with figuring out the shape of your face. So, we're going to look at four basic face shapes: Oval, Square, Round, Triangle etc..
The best way to figure out the shape of your face is to sit yourself down in front of a mirror and pull your hair back away from your face. Use a headband or ponytail holder to keep it out of the way and take a look at yourself closely in the mirror. Next, take a bar of soap and carefully – holding your head as still as possible – trace the outline of your face along the hairline, around the cheeks and following the contours of the chin.
Once you've done this, sit back and take a look at the shape you have drawn. Does it appear wider at the top or bottom? Is it round or more egg-shaped? Does it seem to have "corners" at the jaw line or forehead? These are all traits indicative of specific face shapes. By recognizing these shapes, you can easily adapt your personal style to make the most of your look when it comes to your hair.
Haircut For Heart Shape Face
DEEP SIDE PART
"A deep side part brings emphasis to Ashley Greene's cheekbones and opens her face up," says Gibson, who works with the Twilightactress. Finish with a flexible-hold hair spray, like

Fekkai Sheer Hold Hairspray,

to make your strands look just as lustrous.
LOOSE WAVES
Shoulder-length styles can be dowdy (sorry, soccer moms). But Katharine McPhee's loose waves keep the cut youthful—and draw attention to her strong jaw without looking harsh. "It's reminiscent of Marilyn Monroe," Gibson says, who recommends using rollers from mid-length to ends to achieve the same bounciness.
Haircut For Long Face
EYE GRAZING BANGS AND LONG LAYERS
Bangs that graze the top of the eye are the most flattering for oblong face shapes as they draw focus to and enhance the eye area. Combine with long layers that create volume just below the cheek bones to create an illusion of fullness around the jaw line.
SIDE SWEPT LONG LAYERED HAIRSTYLE
A classic! This side swept long layered hairstyle creates volume at the crown and fullness through the sides, drawing attention the eyes and cheekbones. The volume at the crown and fullness through the sides creates a fuller more rounded face shape.
Haircut for Oval Face
CURVED BANGS
Bangs on an oval face are a great choice, because they change the face shape by shortening its length. These aren't blunt—instead, they curve on the sides, adding a frame around the eyes. For sleekness like Liv Tyler's, Babaii suggests blow-drying hair and adding a pea-size amount of smoothing serum.
BOHO WAVES
It seems like every stylist has their own way of doing the urban/boho wave. This is one way I like to do it. The key to this style is to make your hair wavy without a defined curl pattern. Mist your hair with a beach spray, like Bumble and Bumble Surf Spray, loosely curl with a large-barrel curling iron, and run your hands through it.
Haircut for Triangle Face
For medium hair
This is a very nice hairstyle shape which suits our models triangular face shape to a tee. The sides fall softly onto and away from the jaw line creating cover in the right places, and the side swept bangs work well to create diagonal direction drawing attention to the eyes. The zig zag part creates some height and builds length into the look, while an all over rounded shape frames the face nicely.
For long hair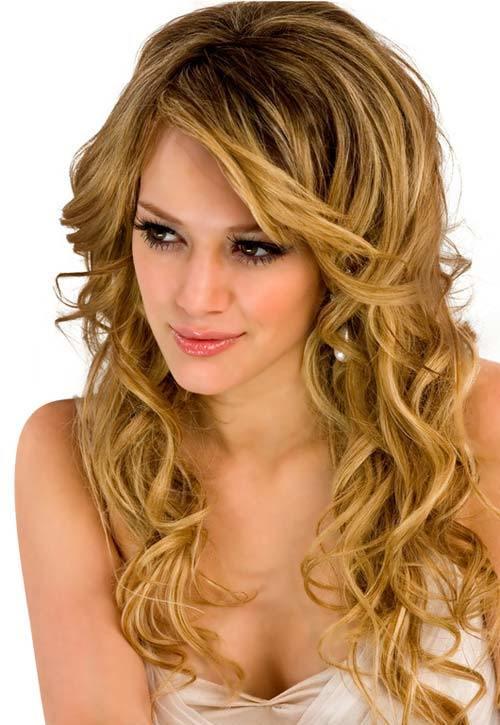 This long soft wavy hairstyle is a nice look and a great example of how to design a hairstyle that will suit triangular face shapes. The soft waves have a naturally soft appearance that falls nicely due to the layering. The middle part also helps to top divide the face into two long narrow portions to create the illusion of length. This shape will work in straight and curly textures.
Haircut for Square Face
ANGLED BOB
An angled cut with long pieces in front that gradually get shorter toward the back. "They elongate rather than widen the face.
LONG LAYERS
Too-short layers can make a square face shape seem flat or wide. For a smooth finish, work a frizz-taming straightening balm onto damp hair before you blow-dry.
Haircut for Round Face
Ginnifer Goodwin
Who says round face shapes can't wear short hair? Ginnifer Goodwin proves a pixie can be ultra flattering. Keep all the volume at the top (and none of the bulk on the sides) to create an oval shape.
Mila Kunis
Super sleek, straight hair can help streamline a round face shape. This look works best when hair is below the shoulders.
(
livefitandhealthylife
)