Big curls are great if you have
longer hair
but using a curling iron regularly is not so great. Too much heat can damage your hair. If you want really big curls but you want to keep your hair healthy, this tutorial is for you. It will teach you how to create big curls.
This is a great beauty trick that will give you those lovely curls that you want without the risk of heat damage to your hair. It's quick and easy and gives you bouncy, curly hair that looks great.
If you love curls but want to protect your hair from too much heat, this tutorial is great. Get those wonderful curly locks without having to worry about heat protection sprays and remembering to turn off the curling iron.
If you have straight hair and you want them to look curly, you can certainly visit a hairdresser and get a 'perm'. But that would be a permanent option. A better option is to get a curl at home making your hair stay curly for a couple of days. Here's how to get a curl at home:
Wet your hair and apply mousse or a light gel. The next step is curl your hair. There are numerous ways you can do this, depending on the duration of curls that you want and the amount of pain that you are willing to take. While curling, make locks by dividing your hair into five sections, one at the top of the head, two at the right and left hand side and two at the back of your head-
Slightly wet the hair. Roll ur hair over the socks like you would do with a hair roller and tie the ends. You can use more socks depending on your hair quantity. I used only two because i wanted BIG wavy curls. And "its time to go to go to sleep" The next morning , take off the socks and "lo and behold! You have the most amazing hair -friendly curls" . You can use hairsprays if you want but i wanted to see how long it lasts without that and i am amazed with the result!! 9 hours !! and even after 12 hours i still have soft beach wave curls.
Apply styling gel + serum + dollop of mousse to hair. Wrap one-inch sections around Velcro rollers or chopsticks and pin the ends. Twist away from face if you have an oval-shaped face or towards it if your face is rounder. Use a diffuser or air dry. Slide out the rollers and separate curls just a bit. Don't use a comb or brush.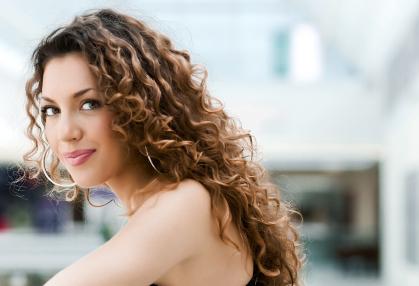 Apply styling gel/cream + serum to damp hair. Take a ½ inch section of hair and twist it around till it's tight. The styling gel will keep the hair in place. Repeat for whole head. Keep your hair as is till its dry. You can use a diffuser or just let it air dry. Once its dry, very lightly shake out the spirals using only the tips of fingers. Don't touch hair all day or it will get frizzy. Spritz on a little hair spray to take the look into the next day.
Apply Styling gel + leave-in conditioner to damp hair. Make a partition in the middle (or side if you have thicker hair), grab handfuls of hair and scrunch tightly. Use a diffuser or air dry. Don't touch hair at all to keep the shape and avoid frizz. If your curls start to droop by mid-afternoon, wet your hands and scrunch hair again. The water will activate the products and you will have fresh curls for the evening.
Dry your hair and comb it thoroughly to smoothen it out.
Spray hair with a heat protectant spray so that your hair does not burn. Divide your hair into five sections. Clamp the straightener on one section near the scalp. Now twirl the straightener inwards making the hair take a U turn. Run the straightener slowly down the hair shaft till the end. Repeat with other sections. Spray some hair spray on your curls to make them last longer.
If you are using a curling iron or hot rollers, do not wet your hair as the hot steam may damage your hair. Do read the safety instructions on hot rollers or curling iron before using them.