Foundation is a makeup medium that has multiple ways of effective application. No one way is better than the other, it's all a matter of preference. To choose what's best for you, try one at a time, and see which results look best. Here are some suggestions on how to apply your foundation.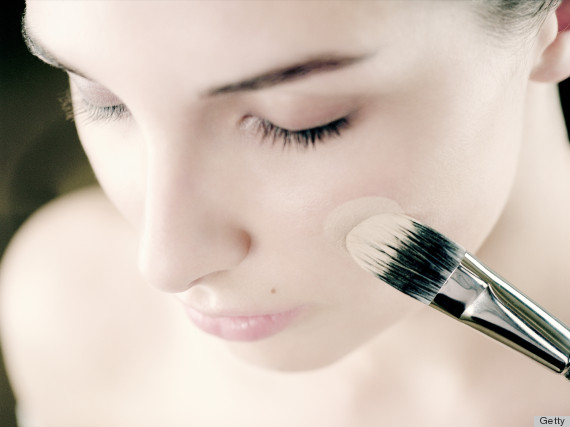 1.
Squeeze a nickel-sized amount of foundation onto the palm of your hand to slightly warm it up with your body temperature. Dip the brush into the product to load it up.
2.
Start in the center of your nose and imagine it's the center of a star. Draw each star point by tracing the brush in a line from the center to your forehead, then back again from the center to your left cheek, then from the center to your jaw, then from the center to your chin, etc. Once you've drawn all of the star points, do not re-load the brush with product but simply use it (or your fingers or a sponge) to blend and distribute what you've already applied to include the rest of your face.
3.
Finally, go back and re-load the brush into the remaining foundation in the palm of your hand (there shouldn't be much left) and apply it all over your neck. It's important to make sure your face and neck match, but if you're wearing a collared shirt or a turtleneck sweater, make sure to blot your neck with a tissue after so it doesn't transfer onto your clothing. (Not cute!)
1.
Moisturize your face and eye area as you normally would and allow your moisturizer about 10 minutes to sink in before applying your foundation. If you use a foundation primer, apply that before starting as well.
2.
When you're ready to apply your foundation, start off by wetting your sponge and squeezing out any excess moisture. You don't want your sponge to be dripping wet, just damp. Using a damp sponge is better than using a dry sponge because a dry sponge will soak up your foundation and waste it.
3.
Dip the thin tip of your foundation sponge into your foundation using a stippling motion to get a small amount of product on your sponge. Start at the center of your face and apply your foundation in short, downward strokes, re-dipping your sponge into the foundation when needed. Try your best to evenly coat the skin using this method.
1.
Rub the foundation between your fingers or hands before you apply it in order to warm it so it will seep into your skin.
2.
Begin applying foundation by dotting it in the center of your face (or the area you wish to cover), and then blend the foundation outward in a circular motion using either your fingertips.
3.
Be sure to blend the foundation into your hairline so that its application is not detectable, and to blend the foundation past your jaw line and into your neck area. Otherwise, you will end up with what looks like a foundation mask on your face. The foundation should visually disappear into your natural skin in the areas that are not as covered by foundation.
4.
Spot check problem areas and layer additional foundation for more coverage, if needed, being sure to thoroughly blend away foundation lines as you go.
·
When using liquid foundation, shake the bottle before application.
·
Foundation may be mixed with a moisturizer to give skin an added glow.
·
If you find that you don't need the coverage of a foundation, you may opt for a tinted moisturizer. Simply apply the moisturizer as you would with any type of face lotion.
·
Foundation may be used along with a self-tanner. Be sure to allow the self-tanner to completely soak in before applying foundation.